This is Part 1 of a 3 part trip report from our visit to the Isle of Harris during the end of April 2018. Would love to hear from readers if they own any Harris Tweed products and / or visited the Outer Hebrides.
As public transport travellers across Scotland, we rely heavily on local tour operators to show us their home region of Scotland from a local's perspective and help us imbibe the culture and traditions of their home region. Luckily, Kathleen of
Harris Scenic Tours
 helped arrange two stops that allowed us to understand the past and present of Harris Tweed through two stops on our bespoke Isle of Harris day trip (one of our fave days of travel in Scotland without question). The first one was the
Clo-Mor exhibition
in Drinishader on the Golden Road where we learnt about Marion Campbell - an icon of Harris Tweed who was awarded the BEM (British Empire Medal) who continued weaving well into her 80s before she passed away in 1996. To say her story and work was an inspiration would be an understatement. Our other stop was in Northton where we met a present-day weaver called Rebecca Hutton of
Taobh Tuath Tweeds
who gave us insights over her setup and the modern Harris Tweed production lifecycle. Both locations are gorgeous to boot! (pictures below taken outside Clo-Mor)
What is Harris Tweed?
The answer to this question (summarized below) is enshrined in UK Law under the
Harris Tweed Act of 1993
! It is also answered in the old newspaper clippings in the Clo-Mor exhibition
Harris Tweed is a tweed cloth that is handwoven by islanders at their homes in the Outer Hebrides of Scotland, finished in the Outer Hebrides, and made from pure virgin wool dyed and spun in the Outer Hebrides. 
The Harris Tweed Authority is the legal governing body that stamps the famous Orb logo to certify a product as Genuine Harris Tweed. The definition above should explain why we requested our guide Kathleen for a stop to meet a present-day weaver in person - the process of making Tweed wholly depends on Hebridean weavers and has been passed down through several generations. Rebecca's set of Orb labels are framed in her weaver shed, pictured below
Marion Campbell (BEM) - An icon of Harris Tweed Weaving
One of the many reasons Marion Campbell is an icon is because she single-handedly oversaw
the entire process
starting from the rearing the sheep that provide the wool, creating her own natural dyes, spinning, weaving and creating the final Tweed length. The only task she wasn't in charge of was stamping her tweeds with the Orb mark. Her participation in the whole process is captured through a set of fascinating photographs on display at the exhibition. We also saw her equipment, including the spoon she used to gather crotal (a type of lichen) from coastal rocks to create a rich brown dye. Thanks to Youtube, there is also a video of Marion using the same loom we saw in person shot in 1987 when she was
75+ in age
. What an inspirational figure! Additionally, her work was so much in the spirit of community that she did not collect the medal from Buckingham Palace in London stating that the medal belonged to the whole of Harris and not to her individually.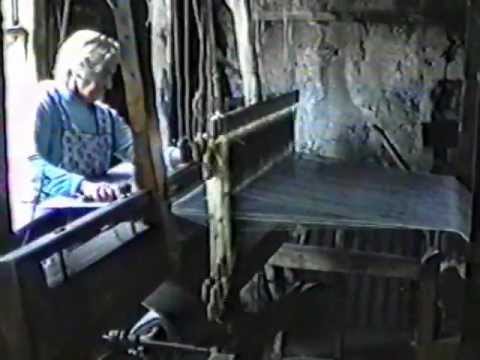 Rebecca Hutton - A present day Harris Tweed Weaver
Becca (as I knew her having met the day before on a Tarbert-bound bus) is an award-winning present day weaver and explained to us (in her home's weaving shed) how her Hattersley MKII loom works in a very logical manner (reminiscent of my computer architecture lectures). She was working an absolutely beautiful length of tweed and the images below shows the different stages in which an in-progress tweed looks like. She currently sells lengths of Tweed on her website but we cannot wait to buy Harris Tweed lampshades that she is planning to produce and sell in the future. Additionally, she is also a very cool person to chat with and we shared many laughs discussing our common interests (namely tea and Atlanta's World of Coca-Cola museum). Another interesting facet of visiting Becca's workshop was a Gaelic comic strip titled "Becca a'Breabadaireachd" or "Becca the Weaver" written by the Primary school students (one for the Gaelic readers to enjoy, we were given a translation by Becca, the sounds and songs are amazing).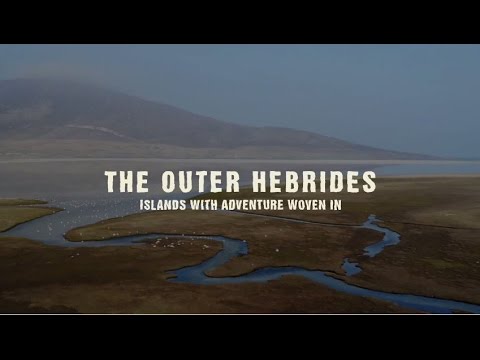 It is no wonder that Harris Tweed products have such high quality and in high demand by top-end fashion designers wordwide as seen in the Croft to Catwalk display at Clo-Mor. Looking at the passion and community spirit of Marion and Rebecca up close, I can be confident in the future of this iconic Scottish fabric.
LINKS AND FURTHER READING
Taobh Tuath Tweeds website shop
Harris Scenic Tours website
Our full blogpost
https://www.instagram.com/beyondourhorizons/